Campaign Updates
Our monthly update on projects the Regional Climate Change Program is working on as part of our effort to maintain and improve the health of our beautiful "Range of Light."
Tracking Potential CEQA Reform
January 17, 2013
By Craig Breon
Regional Climate Change Program Director, Sierra Nevada Alliance
Once again, our go-to law for protecting the natural and human communities of the Sierra is under assault. This time, however, the threat appears more viable. For the Alliance and those of our 85 Member Groups working on land use, development, natural resources, and climate change, there's no more important California law than the California Environmental Quality Act (CEQA).

This article begins a series in which we hope to keep you abreast of possible CEQA reforms in the State legislature. At some point in this process, we will no doubt be asking you to weigh in with your legislators.

For the CEQA initiate, the law dictates that most large-scale development projects conduct environmental analyses and draft an Environmental Impact Report (EIR) prior to project approval. More importantly, CEQA outlines how the public can participate in that project approval process and allows citizens to enforce the law against developers and local governments when the process goes astray.

As examples, in just the last few months, the Alliance has contributed CEQA comments on the Plumas County General Plan, the widening of Highway 65 at the base of the Sierra foothills in Tulare County, and the Tahoe Basin Forest Management Plan. Recently, we have been supportive of, though not a party to, CEQA lawsuits against the Tulare County General Plan and the large-scale Dyer Mountain development proposal in Lassen County.

The economic downturn gave anti-CEQA legislators, developers, and businesses a reason to say that CEQA has delayed or halted too many projects, and thus is a "job-killer." Not very true, but it sounds good. Just consider that CEQA has in place during California's astronomical economic growth. Since 1970, California's population has increased from 20 million to 39 million and the State's Gross State Product has increased from approximately $111 billion to more than $2 trillion. When you compare the economic growth of California to other states—most of which do not have an equivalent of CEQA—our percentage of the National GDP has grown from around 11% in 1970 to more than 13% today.

In other words, if activists are using CEQA to drag down California's jobs and housing growth, we are doing a lousy job of it.

Anti-CEQA activists generally cite specific examples of CEQA abuse when calling for reform, because when you look at broader statistics, abuse is near impossible to find. For example, State Senator Marco Rubio (D), who has just been appointed Chair of the Senate Environmental Quality Committee (which oversees CEQA), talks of how misuse of CEQA has delayed Los Angeles mass transit projects. Instances of abuse are out there (and we'll cover this topic in a future Resource), but they have been and will be blown out of proportion in an attempt to literally pave the way for ill-advised development projects statewide.

Luckily, the remaining appointees to the Senate Environmental Quality Committee include several CEQA boosters, so it looks like a fair debate will be held in Sacramento. However, powerful interests are aligning on the anti-CEQA side, including our own Governor Brown and influential business associations such as the Silicon Valley Leadership Group.

Thus, the Alliance, and this publication, will be focusing on protecting CEQA this year. We'll keep you informed of the discussions in Sacramento, and we hope you'll raise your voice when needed. CEQA deserves it.
Resources
The Sierra Nevada Alliance is seeking an Intern
The Wild and Scenic Film Festival On Tour combines award winning environmental and adventure films with the energy and local activism. The Sierra Nevada Alliance is excited to host this inspiring event, and we are looking for an energetic and dynamic intern to help make the 8th Annual our most successful Film Festival yet! We are seeking a talented and hardworking intern to provide a wide range of special event organizing support to help achieve this goal. The Film Festival intern's primary responsibility will be to assist in planning, coordinating and implementing the 8th Annual Wild & Scenic Film Festival On Tour held on March 8, 2013 in South Lake Tahoe, California. We hope Film Festival Attendees will be inspired to take further action regarding issues that impact our environment, ourselves and our world!
Contact: Lynn by email or call (530)542-4546 ext 305
Sierra Nevada AmeriCorps Partnership Seeking Applications to host AmeriCorps Members from April to September 2013
The Sierra Nevada AmeriCorps Partnership (SNAP), a program of the Sierra Nevada Alliance, invites Sierra Nevada conservation organizations and agencies to apply to become a Sierra Nevada AmeriCorps Partnership Host Site for a new upcoming 2013 half-term placement program. AmeriCorps member(s) serve 6 months at the organization/agency from April 8th, 2013 – September 28, 2013, conducting projects the host site needs completed that are related to, watershed restoration and assessment, watershed education projects, and volunteer recruitment and support.
For more information contact: Mike Thornton by email or call 530-542-4546 ext. 312
Deadline: Jan. 17, 2013
Click here to read more and download the 2013 SNAP Host Site RFA.
UC – Santa Barbara looking for your environmental problems that need solving
Description: The Bren School of Environmental Science & Management is now accepting proposals for 2013-2014 Master's Group Projects. The Group Project serves as the master's thesis for Bren School graduate students, and the next cycle of projects will be carried out from April 2013-April 2014. The Bren School invites any agency, company, organization, or individual that has a problem related to an environmental issue to submit a proposal.
Application Requirements: For complete information on the request for proposals and appropriate proposal topics, please review the RFP, available on the Bren website. All proposers are encouraged to contact Assistant Dean for Academic Programs Satie Airamé as a first step in proposal development. She will offer guidance on how to write a strong group project proposal.
Location: Santa Barbara, CA - project proposals accepted from anywhere
Submissions: Proposal submissions should be sent by email to Amy Burgard by Friday, January 25, 2013 at 5pm.
Position Opening: Two Program Analyst II vacancies, City of Oakland Public Works Agency (PWA), Environmental Services Division.
Description: Under general supervision, Program Analyst II's perform program planning, research, analysis and development; write grant proposals and submit applications; implement and monitor programs; prepare reports and draft proposed programs; perform needs assessment; provide assistance to community organizations, district boards and citizen advisory bodies; provide lead direction to assigned staff; and perform related duties as assigned.
Location: Oakland, CA
Applications Due:Feb. 1, 2013, 11:59pm Pacific Time
Contact Information:
Department of Human Resources Management, 150 Frank H. Ogawa Plaza, 2nd Floor, Oakland, CA 94612-2019 by 5:00 pm. You may also call (510) 238-3112 for information.
Click here for more information.
Position Opening: Public Land Manager II (PLM II), California Tahoe Conservancy
Description: The PLM II position is assigned to manage the activities of multiple Conservancy programs and supervise staff from among the following program areas: Land Acquisition, Land Coverage, Forest Habitat Enhancement, Special Uses, and Resource and Urban Land Management. In addition, the position will be involved in internal and external policy, coordination and liaison activities.
Location: South Lake Tahoe, CA
Contact Information:
Penny Stewart (530) 543-6013
Click here for more information.
Comic of the Month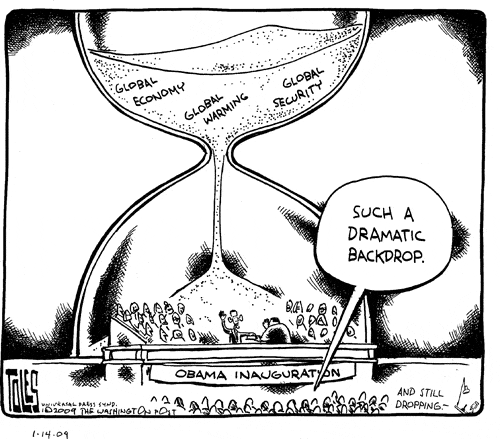 Check out the date on this one!
Newsletter contents prepared by Gavin Feiger.
If you have articles, events or announcements that you would like included in this newsletter or if you have feedback, please email gavin@sierranevadaalliance.org.